MEET THE TEAM
Ron Fournier
In loving memory of our Founder
After working for local Toyota dealers, Ron opened Ron's Toy Shop Inc. in downtown Manchester in 1991. The auto business sparked his love of cars and drag racing. He enjoyed building drag racing cars and took great pride in his 2200 HP 1934 Ford blown alcohol top sportsman/pro-mod.
A true "Car Guy", Ron enjoyed tinkering, restoring and reselling old cars as a hobby. He was an avid member and sponsor for the "NH ATV Club" where he did some volunteer work coordinating events and responsibilities to make their events successful. He truly enjoyed the outdoor trails and activities associated with the club, especially the annual ride to the top of Mt. Washington. A respected community leader, Ron shared his expertise by serving on the board of directors at the Manchester School of Technology (MST). While there, he contributed to the development of projects and learning activities that included house construction, hot rod building, student organization support, equipment procurement and scholarships.
In 1999, Ron and his breakfast buddies started the popular "Cruising Downtown" car show held annually on Saturday of Labor Day weekend that showcases classic and antique cars as well as trucks and motorcycles lining Elm St. in Downtown Manchester. In 2011, Ron became a member of the Manchester Rotary Club, who assumed the responsibilities of running "Cruising Downtown" each subsequent year. He continued to contribute generously with his time and effort, which allowed him to stay close to his love of cars and help support the community with many more successful events.
Ron loved vacationing in Venice, FL. He enjoyed walking the beach and enjoying the many local restaurants. His pride and joy was the family summer cottage in Laconia. Outside of the car community, Ron's true passion was his family.  His desire was for his grandchildren to "be told all the stories about the man who stayed young forever through his kindness and generosity and who lived such a full life".
Ron passed away peacefully with his family at his side at Massachusetts General Hospital on February 18, 2021 at the age of 63.
---
Jamie Demers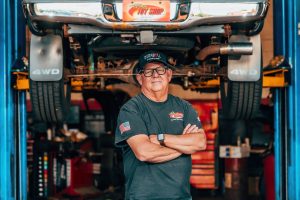 Service Writer
Jamie started working at Ron's Toy Shop in 1992. If you have been to Ron's Toy Shop, you've probably have met Jamie Demers. He's been with us since the beginning and has been by Ron's side through it all. Jamie is Cheryl's brother and Ron's brother-in-law. He has helped with day-to-day operations for a very long time. From working with customers, to making sure the right parts are ordered to get the job done right. Jamie has been there and done that many times over.
When Jamie isn't at work, you may catch him at a place he calls "gods waiting room". We call it, sunny Florida!! He often takes trips with his wife Cindy and his sister, Cheryl to enjoy the beautiful waters of the Gulf of Mexico.
If you need anything service related or want to talk about the Gulf of Mexico, talk to Jamie!
---
Matt Fournier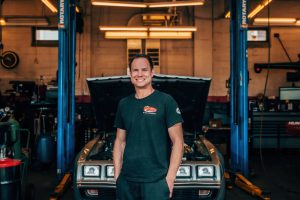 Vice President,  Sales Manager
Matt started working at Ron's Toy Shop in 1996. He worked alongside his father and the shop crew and learned the ins and outs of automotive repair.
He attended Plymouth State University where he majored in business administration and minored in communications. After college Matt returned to Ron's Toy Shop full-time and built the trailer department from the ground up to what it is today.
In his free time, Matt enjoys traveling, mountain biking, side-by-siding and spending time at the lakes and mountains of New Hampshire with his wife, Stefanie, their two kids and their sheepdog, Letty.
Matt has over 20 years of experience in the trailer industry and has a plethora of knowledge regarding all types of trailer makes and models. Custom built trailers are his area of expertise. His attention to detail and desire to make the customer happy is what sets him apart.
Head on down to Ron's Toy Shop and see Matt for all of your trailer needs!
#friendlyfriday
#autorepair
#trailer
#sales
---
Brad Fournier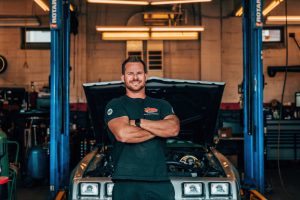 Vice President of Operations
Brad has been working at Ron's Toy Shop since 1998 but has many fine memories of spending his spare time at the shop with his Dad, Ron. He would spend his days off from school cleaning up the shop, picking weeds, or taking care of the trash around the shop. Anything he could do to spend more time around the automotive world and his dad. Anytime he wasn't at the shop Brad was finding something to "tear up the lawn with". Growing up in the auto industry, Brad learned young and had his first lug nut off when he was just 4-years old. He learned to ride a dirt bike before he learned how to pedal a bike. Weekends were spent racing go karts and changing his own oil after each race. By the time he reached High School, Brad was building custom hot rods. Brad and a team of other students at Manchester School of Technology built a T-Bucket with the help and guidance of Ron and other volunteers. Ron used his lifetime of auto industry connections to assist with finding sponsors for the project. At the end of the project, the vehicle was raffled off but has since been repurchased and is still proudly owned by Ron's Toy Shop. Brad and Ron frequented local cruise nights and drag racing events together and Brad is currently a chair member for the car show that his father helped start: Cruising Downtown.
After high school, Brad completed the GM ASEP program in Laconia and began working for a GM dealership as part of the program. He then moved from GM to Toyota and became a Toyota master technician. Brad earned his ASE master certification, advanced level diagnosis, and hybrid certification before returning to work at Ron's Toy Shop in 2010. He worked as our master technician for 11 years before transitioning into the role he holds now. Considered as a "man of many hats", Brad does whatever is needed to help the shop grow. Brad loves making connections and meeting new people.
Outside of work, Brad lives for his family. He married his high school sweetheart, Kaitlin, in 2008 and together they have two girls: Isabella and Olivia, and a yorkie named Ollie. Brad and his family take an annual trip to Disney World and are counting down the days until the next time they can "see the mouse". The family loves spending their free time outdoors. During the summer they can be found camping in their 5th wheel trailer or boating on Lake Winnipesauke. If you catch him on his boat at the Paugus Bay sandbar, you'll hear some Journey or 80's hair bands playing over the speakers, and he'll probably offer you a drink. When he's not spending time with the family, Brad enjoys going for a drive in a hot road or riding his motorcycle.
Whether you are looking for a new ride or want to discuss the details of the next Cruising Downtown, Brad is ready to chat!
---
Kyle Oldakowski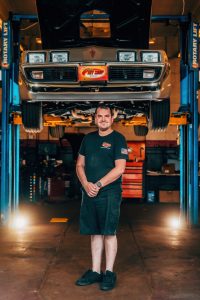 Trailer Sales & Parts
Kyle has been with Ron's Toy Shop since 2015. He started with us as a technician before finding his passion for selling trailers and moving into the office as a trailer salesman in 2017. His mechanical knowledge and experience give him a unique insight into which trailer will work best for each type of job. He likes seeing the joy that a new trailer brings his customers. But above all, Kyle loves helping people.
Outside of work, you can usually find Kyle spending time with his family: his fiancée Rhiannon, his daughter Adalye, and his beloved bulldog Marchand. They spend most weekends up at Lake Winnipesauke relaxing on his boat, riding jet skis, and camping. In the winter, Kyle enjoys cozying up to the woodstove while playing videogames. And when he sits down to listen to music, there's a good chance it's Metallica playing. If it can tow a trailer, it has Kyle's attention – but his favorite trucks have a Duramax Diesel under the hood.
If you're looking to buy a new trailer or replace parts on your old one, Kyle is here to help!
---
Roger Cuthbert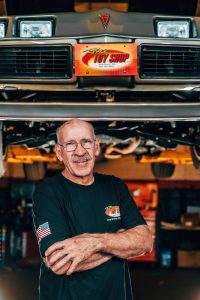 Lead Technician
Roger started with Ron's Toy Shop in 1995 and brings almost 40 years of automotive experience to the team. He started his automotive career in 1985 at General GMC as a parts counterman. He then spent some time as a parts employee at Goff's Chevrolet and Hebert's Auto before becoming a technician at Hebert's in '93. Roger worked with us from 1995-2007, then briefly moved to another shop, before coming back to work with us from 2009-2011. After spending some time working on Martha's Vineyard from 2011-2017; Roger returned to Ron's Toy Shop in 2017 as has been a core member of our team since. Roger loves a challenge. He enjoys overcoming obstacles and figuring out mechanical issues that have stumped others. Making customers happy with his work is what Roger strives for.
Roger is a father of three with two girls and a son. Outside of work Roger enjoys cycling, boating, riding motorcycles, archery, and target shooting. He spends most weekends working on his boat, a 40′ Silverton Cabin Cruiser, down in Lynn, MA.
If it has a motor, we believe Roger can get it running.
---
Taylor Hunt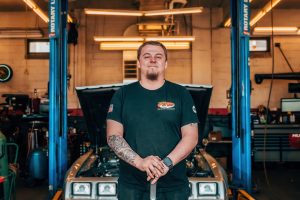 Technician
Taylor has been with Ron's Toy Shop since June 2021. He brings with him over 6 years of professional experience and is ASE Master Certified. Taylor started his automotive career at Universal Technical Institute in 2015. His favorite thing about working on vehicles is figuring out how things work.
When he's not spending his free time working on the vehicles of friends and family, Taylor enjoys getting out and spending time with friends. From a night in playing video games to a night out on the town, or watching a concert or comedy show. Taylor likes snowboarding in the winter and camping during the summer. He loves riding motorcycles and currently rides a Kawasaki ZH2.
Taylor is here to help you keep your vehicle on the road.
---
Mark Koch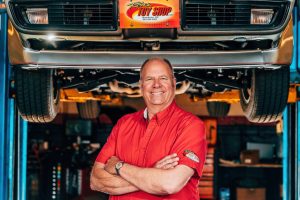 Service Writer
Mark has been with Ron's Toy Shop since 2019. Mark started his career in the automotive field as a technician before being recruited as a tool dealer with Snap-On tools. After spending 38 years with Snap-On, Mark was looking for a change of pace. This led him to Ron's Toy Shop. After speaking with Ron one day over lunch, Mark decided to join our team as a service writer. Mark brings years of knowledge and experience with him that he uses to give honest recommendations for service. He loves helping people and explaining how something works to his customers.
When he's not working the front desk at Ron's, Mark can often be found riding his motorcycle. He typical puts about 8,000 miles on his Harley per year. Mark has a passion for woodworking and enjoys an occasional glass of whiskey. Above all else, Mark loves spending time with his family including his son, Nolan, and his wife of over 40 years, Taryn.
Mark is ready to help answer any questions you may have about your vehicle.