ABOUT RON'S TOY SHOP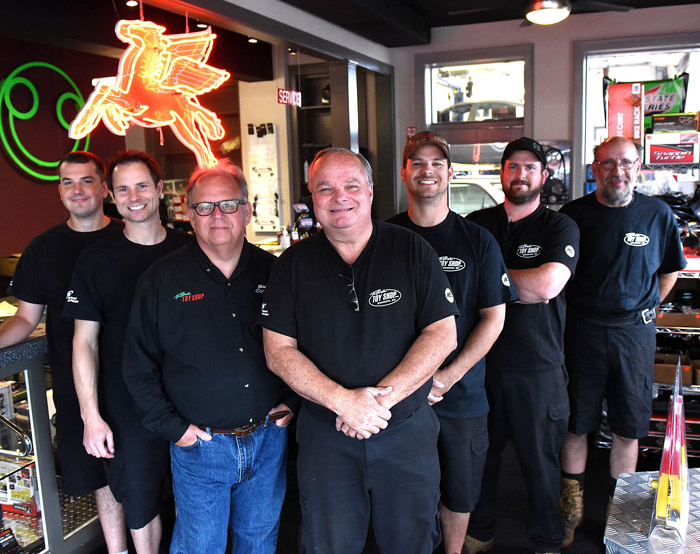 Family Business
Ron's Toy Shop is a growing family business that was founded in Manchester, New Hampshire by Ron Fournier June 21st, 1991. Ron has been working on Toyota cars and trucks since 1977. He hired the best staff in the business so that Ron's Toy Shop can be dedicated to its customer base. A few years later Ron inherited the local Car Mate Trailer dealership from his family and has been selling trailers ever since. Born of a time when great customer service was NOT the exception, Ron's Toy Shop strives to give excellent old fashion quality service at competitive prices. Let us earn your business and find out why many consider Ron's to be the best auto repair in Manchester, NH
Quality Toyota/Lexus Repair
We have the Certified Technicians and T.I.S. (Toyota Information System) scanner and Snap-On scanners that you need to diagnose any Toyota or Lexus. Ron's Toy Shop has all A.S.E. Certified Technicians, along with A.S.E. Certified Master Technicians. Although we specialize in Toyota / Lexus service we are fully qualified and capable of servicing your domestic or foreign vehicle, even if it is not a Toyota or a Lexus. Simply stated… these guys are good.
Custom Built Trailers
Ron's Toy Shop Specializes in customizing trailers to fit your trailer needs by carrying a wide variety and selection of trailers from multiple brands to fit all budgets. We choose trailer manufacturers that can build a high quality trailer product that lasts and can provide great customer service. Therefore, we can provide the same old fashion quality service for our customers. Ron's Toy Shop also does trailer state inspections, trailer maintenance, and trailer repairs on most trailers. We are your one stop trailer dealer, offering a wide variety of trailers to fit any need: enclosed cargo trailers, utility trailers, equipment trailers, dump trailers, enclosed trailers, cargo trailers, enclosed car hauler trailers, open car hauler trailers, atv trailers, dirt bike trailers, landscape trailers, contractors trailers, boat trailers, motorcycle trailers, mega truck trailers, deck over wheels (dow) trailers, hydraulic tilt trailers, and much more! The most popular brands that we work with are Car Mate, DuraBull, High Country, Covered Wagon, Load Rite, Griffin, Wells Cargo, K-Trail
Trailer Parts and Hitches
Ron's Toy Shop's online trailer parts hitch store provides one stop trailer shop with trailer parts, hitches, ball mounts, and hitch accessories parts for trailers. On our online store you'll find trailer hitches, Dexter trailer suspension, trailer hubs and brakes, trailer wheels and tires, Tekonsha electric brake controllers, trailer jacks and couplers, trailer lights, trailer hardware, trailer steel fender, trailer aluminum fenders, and many trailer components and electrical connections.
Trailer Service
We opened our brand new, state of the art trailer shop in April, 2020.  Equipped with a heavy-duty four-post Challenger lift we are able to fulfill all of your trailer service and trailer repair needs on ANY trailer. We repair trailer brakes, trailer axles, lights, electrical and most body repairs and carry a large inventory of trailer parts and accessories. Ron's Trailer Shop is an Official State of New Hampshire inspection station for both commercial and non commercial trailers. Trailer inspections are required in NH if the trailer has a registered weight of 3,000 pounds or more.  More information on trailers can be found on Ron's Trailer Shop.
New England's Trailer Dealer
Serving  Connecticut (CT), Massachusetts (MA), Maine (ME), New Hampshire (NH), Rhode Island (RI), Vermont (VT), and parts of New York (NY), New Jersey (NJ), and Pennsylvania (PA)
Truck Accessories
Looking for added protection and security for your truck bed? Need an extra step to help get up into your truck or SUV? Ron's Toy Shop is here to help you customize your ride. We offer a wide variety of automotive and truck accessories that add both style and function. We offer nerf bars and running boards, tonneau covers (bed covers), toolboxes, ladder racks, headache racks (cab racks) floor liners and mats, mud flaps, fender flares, rain guards, trailer hitches, ball mounts, and more! We are an authorized dealer for popular brands like AMP Research, BackRack, BAK, Bushwacker, Extang, Husky Liners, Lund, N-FAB, Retrax, Roll N Lock, TruXedo & UnderCover